The Lodges & Camps section is meant to give you a look at the accommodation available in each of the parks. It is not meant to provide in-depth information on each lodge. When available, we have included a link to the lodge's own website that will provide you with more information.
Mobile Camping
Lodges come in many shapes and sizes. Many lodges are famous for their beauty as well as comfort. The general quality of comfort, cleanliness and service is high. Each facility has its own ambience. The newer safari lodges are modern hotels designed for harmony with the natural setting. Spacious verandas look out over fame viewing areas with stunning landscapes well visited by game. Some lodges are so well placed, usually by strategic water points, that the game can be seen at any time.
The concept of mobile camping is very attractive to the adventurer as it reminds one of the early explorers and hunters in the "Dark Continent" – Africa. The guest is presented with a product that is much closer to nature and therefore more thrilling.
Budget Bush Camping
Budget camping is the ideal way for those who like to "rough it" as we provide mostly bivouac pop-up tents for accommodation whereby mattresses are laid on the sewn-in ground sheet. The tents are spacious enough for two people and they have a mesh on each window to keep off insects. The guests' safari vehicle pulls a Trailer carrying the camping equipment and a cook. All preparations at the camp are made on arrival at the campsite. Guests are often expected to help pitch the tents, but the cooking and cleaning is all left to the camping crew. We recommend visitors to bring their own sleeping bags. Public campsites provide basic washroom facilities of reasonable hygienic standard for budget camping safaris.
If you've not done it before, then sleeping out in the bush in Africa might seem a little scary, but there's always an armed game scout nearby to reassure you.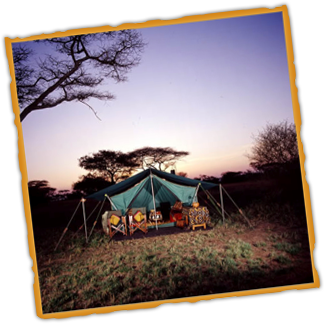 Luxury Tented Mobile Camping
Luxury Tented Mobile Camping always carries a unique characteristic; staying in a private and exclusive campsite. The camping crew and equipment travel separately on a support vehicle ahead of the guests. When guests arrive at the campsite everything is prepared and waiting – tents up, meals cooking, and hot water ready for a wash. The walk-in accommodation tents are provided with two safari beds, blankets, bed sheets and pillows. Wash room facilities are set inside the guests' tents, and not outside.